February, 2012
Understanding Insurance Coverage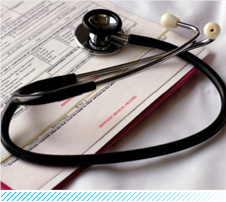 Most Americans with health coverage are covered by one of these plans.
Group or Individual Private Health Insurance
Your employer might contract a large health plan to manage employees' health benefits. As an employee, you might have health plan options, such as a choice of a fee-for-service plan, a Preferred Provider Organization(PPO), or a Health Maintenance Organization (HMO). The options usually have different costs. When you take a new job and/or sign up for new health coverage, ask about the coverage for diabetes supplies.
Employer Self-Funded Plans
These plans are similar to group or individual private health plans. Large companies use these plans for all of their employees. The plans are not required to follow state laws. This doesn't mean the plans don't cover diabetes supplies, but they aren't required to do so by law.
Coverage of Diabetes Supplies FAQ
Most of these plans cover some of the cost of diabetes supplies; however, each plan is different.
Which types of monitors and strips are covered?
Some plans only allow care providers to prescribe one or two types of monitors and strips. If you are told you can only get a particular monitor, but you want a different one because it has special features, then you might need your care provider to write a prescription and/or letter.
Which benefit covers diabetes supplies?
Some plans cover diabetes supplies under your prescription benefit, and some cover them under your Durable Medical Equipment benefit.
How do you get reimbursed?
Some plans require you to pay for your supplies up front and submit a claim for reimbursement. Some charge a co-payment at the time of purchase.
Is there a mail-order requirement?
Some plans might require you to order supplies from a mail-order company. It might save you money to do so. Ask your health plan about ordering options.
How many strips can you receive at one time?
Some plans only allow you to get a certain number of test strips and other supplies to cover a specified period of time (e.g., 30 days).
Insurance Coverage Glossary
Care providers: The professionals who provide your health care (physicians, nurse practitioners, diabetes educators, etc.)

Co-pay: The amount of money your health plan requires you to pay as part of the cost of a service or benefit. This must be paid when the service is provided.

Deductible: The sum of money you must pay for medical services, medications, or supplies before your health plan begins to cover the cost during an annual period.

Durable Medical Equipment (DME): Supplies you need to care for your health in your home that are not medications or services provided by your care provider.

Health Maintenance Organization (HMO): There are various types of HMOs. In staff-model HMOs, you typically choose from the care providers they have on staff. In other HMOs, you choose from a listing of independent care providers with whom the health plan has negotiated rates.

Preferred Provider Organization (PPO): There are various types of PPOs. Generally, you choose from a listing of independent care providers with whom the health plan has negotiated rates.

Prescription (pharmacy) benefit: The part of your health plan that covers medications.


Planning on eating out? See if the menu is available online. If you know your options ahead of time, you'll have a better chance of sticking to your meal plan.

Glucerna Shake gives me vitamins without overeating. Now I know that there's a new way of eating. It's easy and it's so convenient! It's giving me comfort and confidence to do what I need to do to lose weight.

Renee
Gary, Indiana

Read More Glucerna Reviews