November, 2011
The Health Benefits of Blood Sugar Control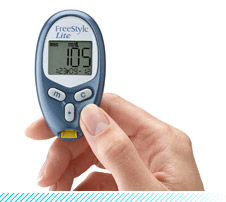 Taking good care of your diabetes today can help you avoid health-related problems in the future. Your health care team will help you design the best care plan for your individual needs.
The primary goals of a diabetes care plan are to:
Keep blood sugar readings at target levels.

70 to 130 mg/dL before meals
Less than 180 mg/dL two hours after meals

Maintain your hemoglobin A1C levels at 7% or less.
What Are the Complications of Diabetes?
Damage to, and narrowing of, large blood vessels, which can lead to heart disease, stroke, and/or amputation of a toe, foot, or leg
Damage to small blood vessels, such as those in the kidneys or eyes, which can lead to blindness or kidney failure
Does Everyone With Diabetes Experience Complications?
No. Staying in good control by keeping your blood sugar and hemoglobin A1C at appropriate levels can help you completely avoid or delay the onset of complications. The best way to know if you are reaching desirable blood sugar levels is to check your blood sugar levels every day, at least as often as your doctor suggests. The results you obtain at various times of the day help you and your health care provider determine the most effective care plan.
Will I Always Have the Same Diabetes Care Plan?
You might need to work with your health care provider to modify your care plan if you experience any of the following changes:
Weight loss or weight gain
Increased or decreased activity level
Changes in medication(s) and/or insulin
Fluctuations in your stress levels
Pregnancy
The only way to know if your diabetes care plan is working is to continue to monitor your blood sugar levels.


Test your blood sugar regularly. By keeping it in check, you can help minimize the damaging effects of uncontrolled sugar levels on your body.

Glucerna Shake gives me vitamins without overeating. Now I know that there's a new way of eating. It's easy and it's so convenient! It's giving me comfort and confidence to do what I need to do to lose weight.

Renee
Gary, Indiana

Read More Glucerna Reviews